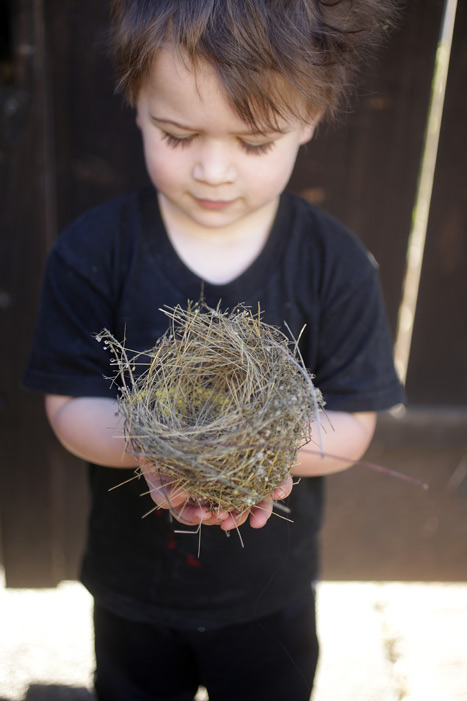 Nico is hereby banned from our local produce store.
You know the kind. That grocery store with the small aisles and even smaller carts. The carts you can't strap your child into because they have somehow, at only 3, gotten too big to wedge their legs into. The kind of grocery store that is always bustling with shoppers and if you are prone to anxiety, you might have to avoid altogether.
The first thing Nico does when we enter the store is sprint for the bin food. He has identified which bins hold the jelly beans and gummies and he frantically grabs as many as he possibly can before the inevitable mama shutdown happens – me, furrowed brow, scolding him and picking him up. Since the bins are only a few feet from the cashiers, I feel like I have to exaggerate my disapproval, say it loud enough so they hear it and then look at them apologetically.
As we wind our way through the store, he reaches out and nabs grapes, pears, raspberries, whatever he can get his little chubby hands on. By the end of the trip, I am left with a cart full of half-eaten fruit – a small price to pay really for keeping him walking next to me.
But the last time we went, I let him sprint off to another aisle while I paid. As I swiped my card, I nervously looked around but trusted that I would find him once I got my bags. I told myself to breathe and kept my eye in the direction of the shampoo aisle where he had darted. When I found him, he was standing with a grandmotherly type who was giving me the stink eye. "You really should watch him more closely," she scolded. I looked down and saw that Nico had been pulling the caps off of every lip balm he could get his hands on and rubbing them all over his face.
His cheeks were glossy and moist.
I relayed this story to a friend the other day and we laughed… and I wonder why these stories can feel so painful in the moment. The shaming look in that woman's eyes, the you-are-a-terrible-mother glare that makes you want to cry and hide and ban your child forever from going shopping with you. The kind that makes you grab your baby a bit too roughly and usher him out with a firm "NO!"
It reminds me of a story Brene Brown told about a woman whose card was declined at the gas station and when her 2 year old started crying in the carseat, she lost it and screamed at him. Ugh. We have all been there. The shame that leads to unskilled behavior…
Nico had a meltdown when we got to the sidewalk outside the market. "NO! I DON'T WANT TO WALK!" he shouted and plopped his tush down on the sidewalk. Please come Nico. I can't carry you with all these bags…
It was getting dark.
"Do you guys need a ride?" A kind voice emerged from the car idling next to us. "I heard you talking. I'm happy to take you. But I don't have a car seat."
I surveyed the situation. Steep hill in front of us and a sweet older woman next to us.
Unexpected kindness.
We got in and she drove us up and over the hill. Nico was thrilled to be strapped in a simple seatbelt next to me and he beamed.
Unexpected kindness is some of the best possible medicine. And when it shows up, it's good to say yes.
Her gesture was simple. The ride was all of 90 seconds. But it meant everything to us. Those 90 seconds of kindness were just the balm we needed.
Do you have a story of unexpected kindness? What happened?